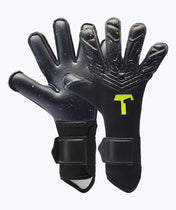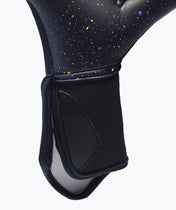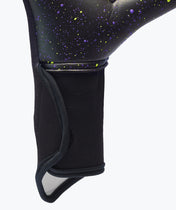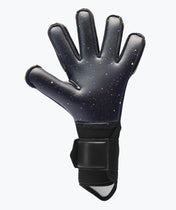 Stefan Ortega (Manchester City F.C.) and +296.511 goalkeepers trust T1TAN
Alien 2.0 Galaxy Junior 2.0 (FP)
Kids goalkeeper gloves for artificial turf with finger protection
Trusted by MLS & NWSL goalkeepers
Alien Galaxy Junior 2.0 - For the professionals of the future.
For the little pros of tomorrow, there is now the AL1EN GALAXY JUNIOR 2.0. The adhesive foam is even more abrasion resistant due to its embossed honeycombs and therefore longer lasting.
With the 3 mm Astro Grip and the neoprene backhand, the gloves are not only lightweight, but also offer perfect grip when catching and holding balls.
Finger Protection. Protectors on all five fingers reduce the risk of injury.
Junior Adhesive Foam. Durable 3mm Astro Grip adhesive foam for kids.
Flat Cut. Outside seams for increased catching area.
Neoprene Body. Neoprene backhand protects against moisture and is water resistant.
Elastic Latex Strap. The new latex closure needs to be wrapped around the wrist only once and fixes the wrist perfectly.
Simple Entry. For very easy putting on and taking off of the glove.
Tech specs
Cut

Flat cut

Fit

Regular

Latex

3mm Astro Gripp

Grip Protection

❌

Body material

Neoprene

Closure

Elastic latex strap (single)

Wrapped Thumb

❌

Finger protection

✅

Grip

⭑⭑⭑⭒⭒

Shock absorption

⭑⭑⭑⭑⭒

Abrasion resistance

⭑⭑⭑⭑⭑

Suitable for

Grass & artificial turf
FAQ
Professionals normally only use our goalkeeping gloves for a few weeks, since the demands at this level are extremely high. At T1TAN, you get the same quality as the professionals do.

At amateur level, most goalies use 3-4 pairs of goalkeeping gloves a year. Therefore, you can assume a working life of 3-4 months. Optimum care and technology can increase this working life.

Please note that abrasion can start to occur from the very first use. Nevertheless, the gloves can still be used for 3-4 months.

Do you need help in finding the right size for you? Then just send us a message at support@t1tan.com or just look at our size charts:

The carriage costs and delivery time depend upon the country to which the order will be sent. You can find details of the respective carriage costs and delivery times.

If you would like to send the gloves back, then you can do so free of charge. You can find more information here:
It is of utmost importance to us that your products are shipped safely and reliably.
That is why we send packages exclusively via FedEx.
The moment your package has been shipped, you will receive a tracking link either via e-mail or Facebook Messenger so that you can track your package online.
Global carriage costs

| Country | Price | Free Shipping | Duration in Business Days |
| --- | --- | --- | --- |
| USA | $14.90 | from $150 | 2-5 |
| Canada & Mexico | $19.90 | from $150 | 2-5 |
Please note: The delivery time of self-configured products such as MyGloves and MyShirts is about 6 weeks. The delivery time of personalized Gloves is about 5-7 business days.
Find the right size for your hands.
Just measure the base of your middle finger to the tip of your finger.
IMPORTANT: 5-7 business days processing time.
Any glove we produce can have a custom text printed on the wrist strap.
You can either have one line or two lines printed as you can see in the picture below. The price for personalization is $12.00.
You can have the following characters printed:
➕ All numbers from 0-9
➕ All letters and special characters of the QWERTZ keyboard
🚫 Unfortunately, emojis and flags are not possible
IMPORTANT: Unfortunately, different imprints on the right and left glove are not possible.
Enter your size and email address and we will write to you as soon as this item is available again.