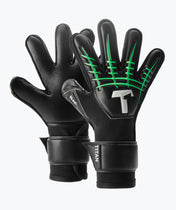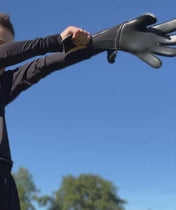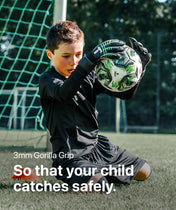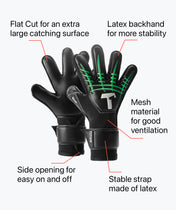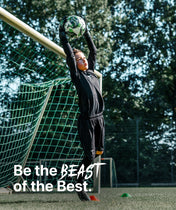 Stefan Ortega (Manchester City F.C.) and +296.511 goalkeepers trust T1TAN
Fluo Beast Junior 3.0
Kids goalkeeper gloves with easy entry
Trusted by MLS & NWSL goalkeepers
THE BEAST FOR THE LITTLE UP-AND-COMING KEEPERS
The pros of today were also young once: That's why your child should also play with the right equipment. The FLUO BEAST 3.0 Junior was developed especially for children's hands.
Top material for the next generation.
Perfect fit, convincing grip and long durability. Our kids goalkeeper gloves are packed with great features.
Durable Gorilla Grip.
Make your kid a force in goal with the special 3mm Gorilla Grip for reliable grip. The high-quality adhesive foam is especially abrasion-resistant and durable.
Combined mesh-latex backhand.
Super lightweight and comfortable to wear: the durable latex material is very robust, while the mesh is characterized by high breathability. Moisture and sweat are thus effectively conducted to the outside.
Increased catching surface.
Best chance to catch any ball: Thanks to seams located on the outside, the catching surface is now particularly large. This makes it even easier to catch balls successfully.
Punching Zone.
More control for your child: the latex Punching Zone enables even more targeted punching. For even better cushioning, even during intense games.
Elastic Latex Strap.
Effective protection for your child's wrists: Made of high quality latex, the strap secures the wrist with just a single wrap. For more stability and better grip.
Easy Entry for easy on and off.
Super fast in. Super fast out: With the Easy Entry, at the bottom of the glove, your child can easily put on and take off his gloves himself. Completely without any help.
Made for any weather.
The gloves for every game. This model was developed for demanding universal use. Whether it's wet or dry, your child only needs these gloves to be ready for anything.
Tech specs
Cut

Flat Cut

Fit

Close-fitting

Latex

3mm Gorilla Gripp

Gussets

Mesh

Grip Protection

❌

Body-Material

Mesh

Closure

Simple Latex Strap (non-detachable)

Wrapped Thumb

❌

Finger protection

❌

Grip

★★★☆☆

Shock absorption

★★★☆☆

Abrasion resistance

★★★★★

Suitable for

Grass & artificial turf
FAQ
Professionals normally only use our goalkeeping gloves for a few weeks, since the demands at this level are extremely high. At T1TAN, you get the same quality as the professionals do.

At amateur level, most goalies use 3-4 pairs of goalkeeping gloves a year. Therefore, you can assume a working life of 3-4 months. Optimum care and technology can increase this working life.

Please note that abrasion can start to occur from the very first use. Nevertheless, the gloves can still be used for 3-4 months.

Do you need help in finding the right size for you? Then just send us a message at support@t1tan.com or just look at our size charts:

The carriage costs and delivery time depend upon the country to which the order will be sent. You can find details of the respective carriage costs and delivery times.

If you would like to send the gloves back, then you can do so free of charge. You can find more information here:
It is of utmost importance to us that your products are shipped safely and reliably.
That is why we send packages exclusively via FedEx.
The moment your package has been shipped, you will receive a tracking link either via e-mail or Facebook Messenger so that you can track your package online.
Global carriage costs

| Country | Price | Free Shipping | Duration in Business Days |
| --- | --- | --- | --- |
| USA | $14.90 | from $150 | 2-5 |
| Canada & Mexico | $19.90 | from $150 | 2-5 |
Please note: The delivery time of self-configured products such as MyGloves and MyShirts is about 6 weeks. The delivery time of personalized Gloves is about 5-7 business days.
Find the right size for your hands.
Just measure the base of your middle finger to the tip of your finger.
IMPORTANT: 5-7 business days processing time.
Any glove we produce can have a custom text printed on the wrist strap.
You can either have one line or two lines printed as you can see in the picture below. The price for personalization is $12.00.
You can have the following characters printed:
➕ All numbers from 0-9
➕ All letters and special characters of the QWERTZ keyboard
🚫 Unfortunately, emojis and flags are not possible
IMPORTANT: Unfortunately, different imprints on the right and left glove are not possible.
Enter your size and email address and we will write to you as soon as this item is available again.